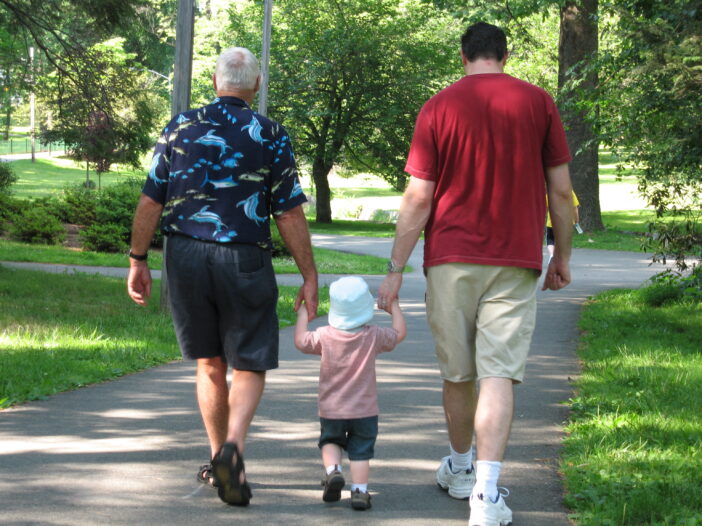 Jesus' Father and Our Father
A sermon preached by Daniel Love Glazer at Northbrook United Methodist Church
July 20, 2014
Happy Father's Day! What, you say, "This isn't Father's Day; Father's Day was a month ago." Well, If you look at the calendar or ask greeting card companies, they will tell you that Father's Day is the third Sunday in June. But when we consider our Heavenly Father, the Father Absolute who is the creator controller, and infinite upholder of the universe, we realize that today and every day is Father's Day.
Toward the end of his life, Jesus told his followers numerous times that he would be killed, and he also said that on the third day he would rise from the dead. Very few of his disciples believed him. They didn't think he could die. But, in fact, he was crucified and died a painful death. The question then became, would he rise from the dead, as he predicted? Again, very few of his disciples believed that he would.
One of his most loyal disciples was Mary Magdalene. In today's scripture passage from the 20th chapter of John, we are told that on the morning of the third day following Jesus' crucifixion, Mary Magdalene went to the tomb where Jesus had been lain. And, lo and behold, there she met Jesus, who indeed had risen from the dead! And Jesus said to her, "Go to my brothers and sisters and tell them, 'I am ascending to my Father and your Father, to my God and your God.'" In this passage, Jesus is proclaiming that God is not only his father, but he is also the father of every person. As Christianity developed, it emphasized that God was the Father of the Lord Jesus Christ, but it often neglected the more robust truth that, as Jesus himself declared, God is also the loving father of each one of us. In this regard, we are equal with Jesus. Of course, Jesus is unique in other ways, such as having divine power. But we are each one of us a child of God, as Jesus is.
And because we are all God's children, we are all brothers and sisters to each other. Jesus said, "all of you are brothers and sisters….you have one Father, who is in heaven."
Jesus' God is not far away, but is readily available and ever full of tender mercy. God is not just the Father, but "our Father."
Yes, we are all God's beloved children and, by faith, simple trust in God, we can realize this saving truth. If we do so, we will be "born from above." Jesus said, "Truly I tell you, unless you change and become like children, you will never enter the kingdom of heaven." Jesus is not telling us to become childish, but rather childlike, to trust God as a child trusts his earthly parents.
What kind of father is God? Perhaps we can answer this by considering the scripture we have heard today of the parable of the Prodigal Son, as told by Jesus. This parable introduces us to two very different brothers. The older brother is responsible, serious, and hard-working, but also self-centered and conceited. The younger brother avoids responsibility; he likes to enjoy himself; he is cheerful, lively, and lazy. It's no wonder that the two brothers did not get along.
The younger brother decides to leave home. He approaches his father and asks to be given the 1/3 share of his father's estate that will be his due upon the father's death. When you think about it, this is pretty insulting: it's as though the son is wishing his father dead. But the father agrees to the request. The son proceeds to leave home and travel to a distant land. There he indulges his appetites in riotous living, until he has wasted all of his wealth.
And then this far country is afflicted with famine. In hunger and despair, the son goes to work for a man who has him feeding pigs. And he wishes he could eat what the pigs eat. Finally, he "comes to his senses." He realizes that while he is starving, his father's servants are well-fed. He recognizes that he has sinned against heaven and his father and resolves to go back home and ask that he be treated not as a son, but as a servant. So he sets out on the long journey home.
His father, meanwhile, has been mourning him and hoping for his return. When the son is still far away from home, the father sees him, rushes to him, and hugs and kisses him. "Father," the son blurts out, "I have sinned against heaven and against you." But the father cuts this confession short. He calls his servants and instructs them to bring the finest robe, a ring for the son's finger, and sandals. He tells them kill the calf they have been fattening and to celebrate with a feast. He is elated, because his son, who was lost, has now been found.
Meanwhile, the older son, who has been working in the fields, comes back to the house and hears sounds of merrymaking. He asks a servant what is happening and is told that his brother has returned and the father has called for a celebration. This dutiful son is angry and refuses to join the party. The father comes out and pleads with him to come in, but this son is too proud and too stubborn. He complains that, though he has always been the good son, doing what his father asked for and what his duty required, the father never even gave him a baby goat so that he could party with his friends, while the younger son, who has wasted his father's money, is rewarded with a celebration.
My son, the father replies, everything I have is yours. Anytime you could have had a party for your friends. But it is right that we celebrate, for your brother was dead and now he is alive; he was lost and now is found.
Henri Nouwen has suggested that this parable, instead of being called the parable of the prodigal son, might better be called the parable of the compassionate father. Indeed, the father's compassion shines brightly. He isn't even interested in hearing the confession of the younger son, but simply rejoices in his return. And his compassion extends to the older son, whom he urges to join the celebration.
Have you ever had an experience like that of the prodigal son? I have. When I was in college in New York, I was very unhappy. I had no interest in school, and spent most of my time in the downtown pool halls. I got involved in gambling at pool halls and at the race track. I wanted money to fund my gambling habit and I thought of a way to get it. My grandfather had long maintained a savings account in my name. Whenever I would visit him at his apartment in Brooklyn, he proudly showed me the passbook that indicated how much money he had put away for me. I decided to get this money. I paid a visit to my grandfather, and when it was over, I shut the door as if I were leaving, but instead, went into the second bedroom and hid under the bed. I lay there, covered in dust, for several hours, until I heard my grandfather leave the apartment. Then I got up, took the savings passbook from the drawer where he kept it, left, and went to the bank, where I withdrew the $600 in the account.
I then proceeded to lose all the money in a poker game. I had become the prodigal son, but I never "came to my senses" like the son in the parable. I don't know what would have happened if I had gone to my grandfather and confessed my misdeed. Perhaps, like the father in the parable, he would have forgiven me and embraced me, but I was too afraid and ashamed to find out.
The father in the parable does not judge, punish, or even criticize the prodigal son. He is simply joyful that the son has come back home. And he also embraces the stubborn older son, encouraging him to join in the joy of celebration. Note the contrast between the attitude of the father in this parable and the attitude of God the Father in much of Christian theology, which insists that a punishment must be enacted to satisfy God's justice and enable us to be reconciled to him. In contrast, for Jesus, God's love and mercy overshadow his justice. His forgiveness requires no bribe or sacrifice.
When the paralyzed man had his friends remove tiles in the roof so they could lower him to be by Jesus, Jesus said, "Friend, your sins are forgiven you." Salvation is offered right away, in response to honest spiritual desire. Many times, Jesus said to people, "Your faith has made you well" or "Your faith has saved you." He also assured us, "Do not be afraid, little flock, for it is the Father's good pleasure to give you the kingdom."
Jesus declared that "the Son of Man came to seek out and to save the lost." And that God is even "kind to the ungrateful and the wicked."
Dear brothers and sisters, let us rejoice that our Father in heaven requires no payment to bestow his grace and salvation on us. He loves each of us with an infinite love and it his great joy to embrace us, like the father in the parable, and to welcome us home.
Happy Father's Day!