Parenting and Mentoring with Spirit
Preparing Children to be Cosmic Citizens – Exploring a Model of Family Culture
International Urantia Conference
July 1, 2008
Author: Sara Blackstock
I . PREPARE TO LOVE – FIRST GOD , THEN YOURSELF,
THEN YOUR PARTNER, THEN YOUR CHILDREN
A. YOU AS AN INDIVIDUAL .
1. Your relationship with God establishes the foundation for your relation with all:
"Only a God-knowing individual can love another person as he loves himself."
16:9.l0
2. Take care of yourself: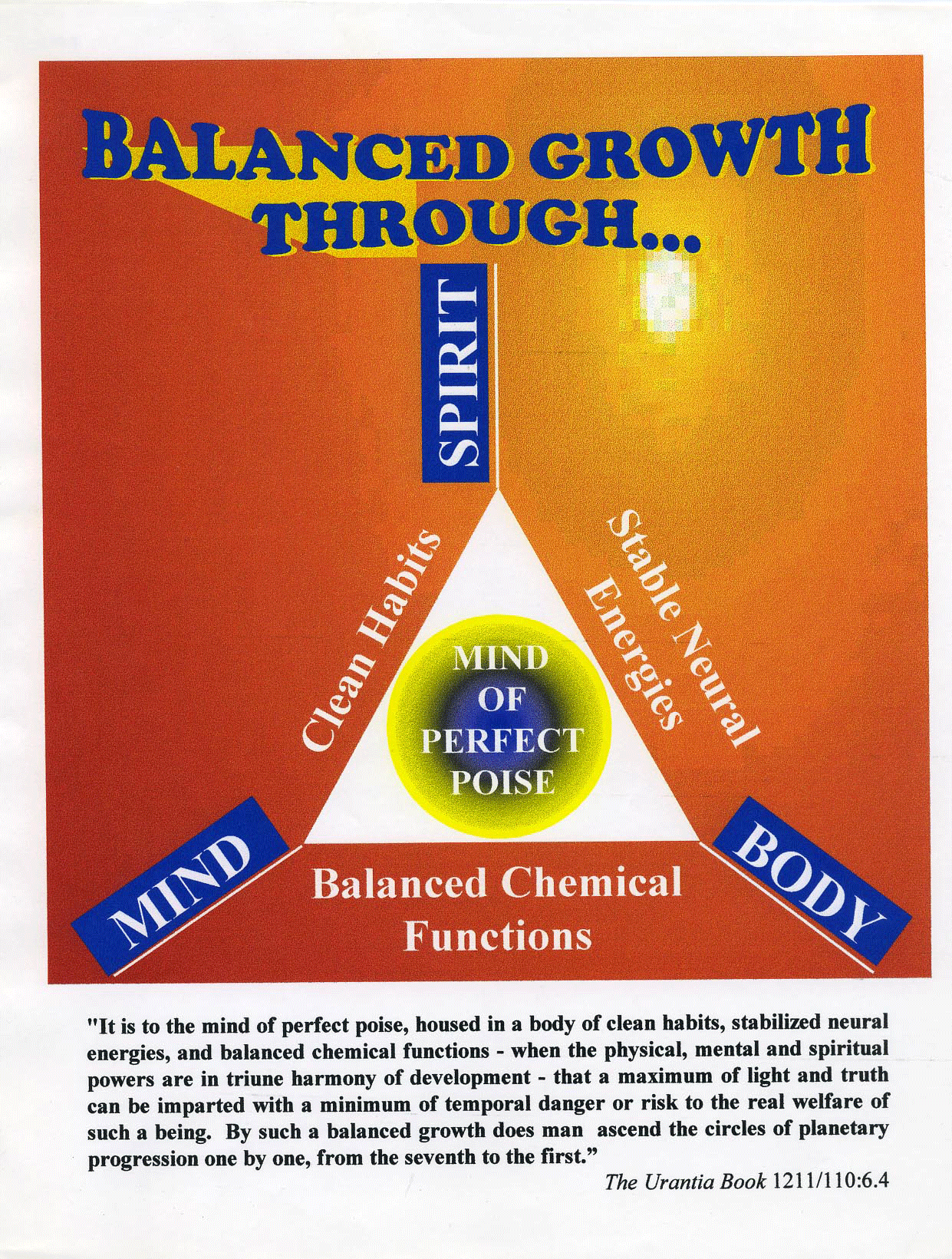 3. Develop your personal philosophy of living.
B. YOU AS A COUPLE
"Of all social relations calculated to develop character, the most effective and ideal is the affectionate and understanding friendship of
man and woman in the mutual embrace of intelligent wedlock. Marriage, with its manifold relations, is best designed to draw forth those precious impulses and those higher motives which are indispensable to the development of a strong character. And such a matchless community of relationship, man and woman in the fond embrace of the highest ideals of time, is so valuable and satisfying an experience, that it is worth any price, any sacrifice, requisite for its possession." 160:2.6
1. Love Stories from The Urantia Book (gathered and expanded upon by Buck and
Arlene Weimer)
a. Andon & Fonta — There were like-minded and equals, the same values and
goals, had mutual regard and affection for each other, had a long and intimate
relationship, and role compatibility.
b. Adam & Eve — "The most emotional stimulating of these love stores, from
the depth of loneliness of the heights of service to humanity. They were
equal in every sense of the word, were like-minded."
p c. Adamson & Ratta — both were of superhuman origin, had the same goals,
and were devoted to family and the service of all humanity.
d. Joseph & Mary — "Well-educated, came from strong religious backgrounds;
they knew each other's families; they prepared for their eventual family by
building their own home. Their roles were well defined. They had an agreed
upon technique for raising their children, lived within their financial means,
– were unafraid of responsibilities, agreed on importance of religion in the home,
balanced each 0ther's personality."
e. Miriam & Jacob – "Miriam was well-balanced and level headed with a keen
appreciation of that which was noble; They knew each other for more than 15
years, were both spiritual minded and had family as the center of the
philosophy."
f. Rebecca & Jesus -— "perhaps the most poignant of all the love stories.
Rebecca's love and devotion toward Jesus is rarely matched in human history.
The relationship was unsuccessful because of their vastly different goals.
g. Ruth & David — They knew each other for many years before marriage,
both believed in the same values, were from similar culture, racial and religious
backgrounds; they came from and continued in strong family orientation."
C. YOU AS PARENTS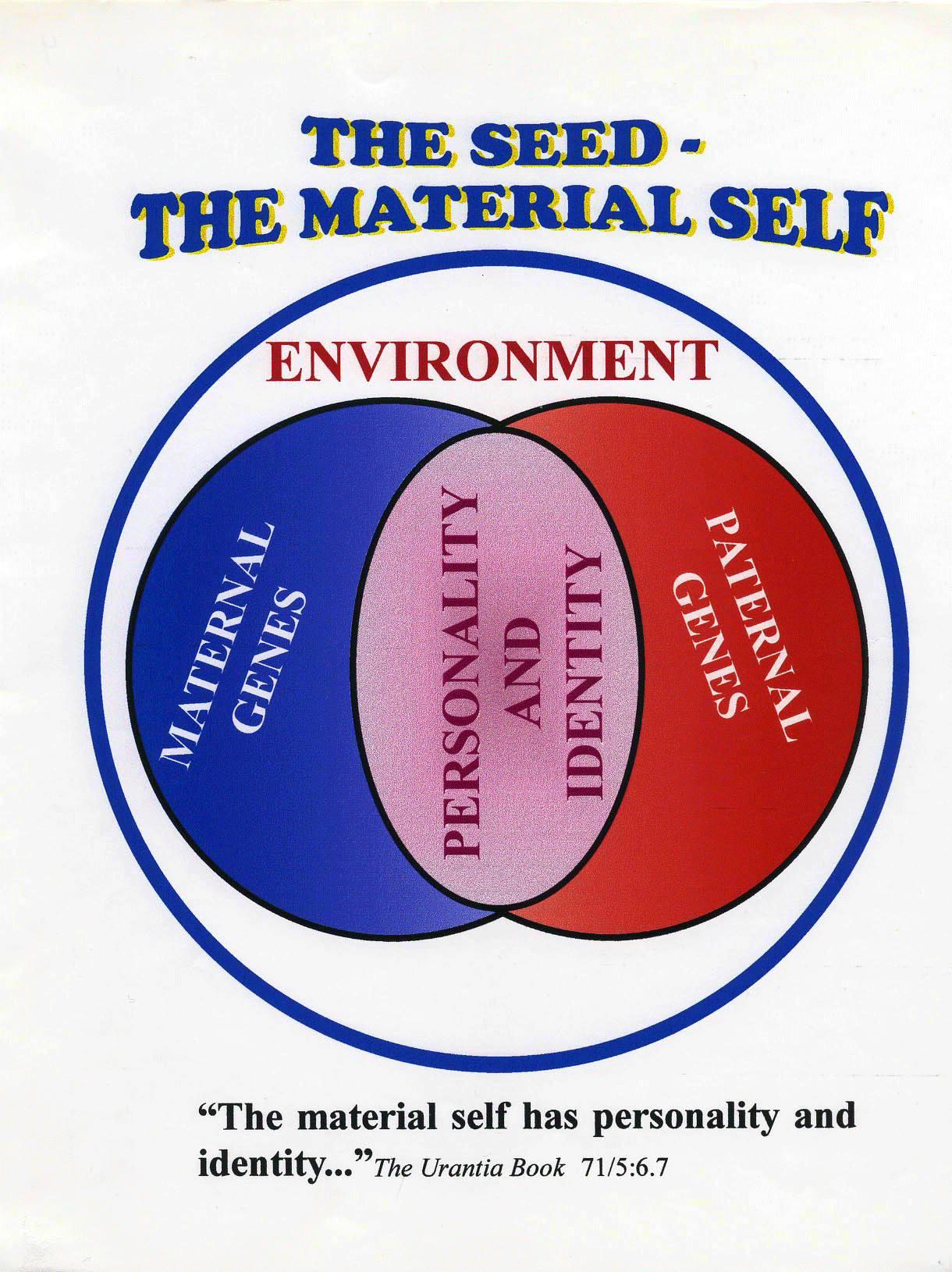 "No doubt the profound affection of the Deity parents for their divine progeny is the
Wellspring of that beautiful and well-nigh divine love which
even mortal parents bear their children." 21:0.2
D. YOU AS A FAMILY
"…. A true family — a good family — reveals to the parental procreators the attitude of the
Creator to his children, while at the same time such true parents portray to their children the
?rst of a long series of ascending disclosures of the love of the paradise parent of all universe
children." 84:7:30
l. Know and live your loyalties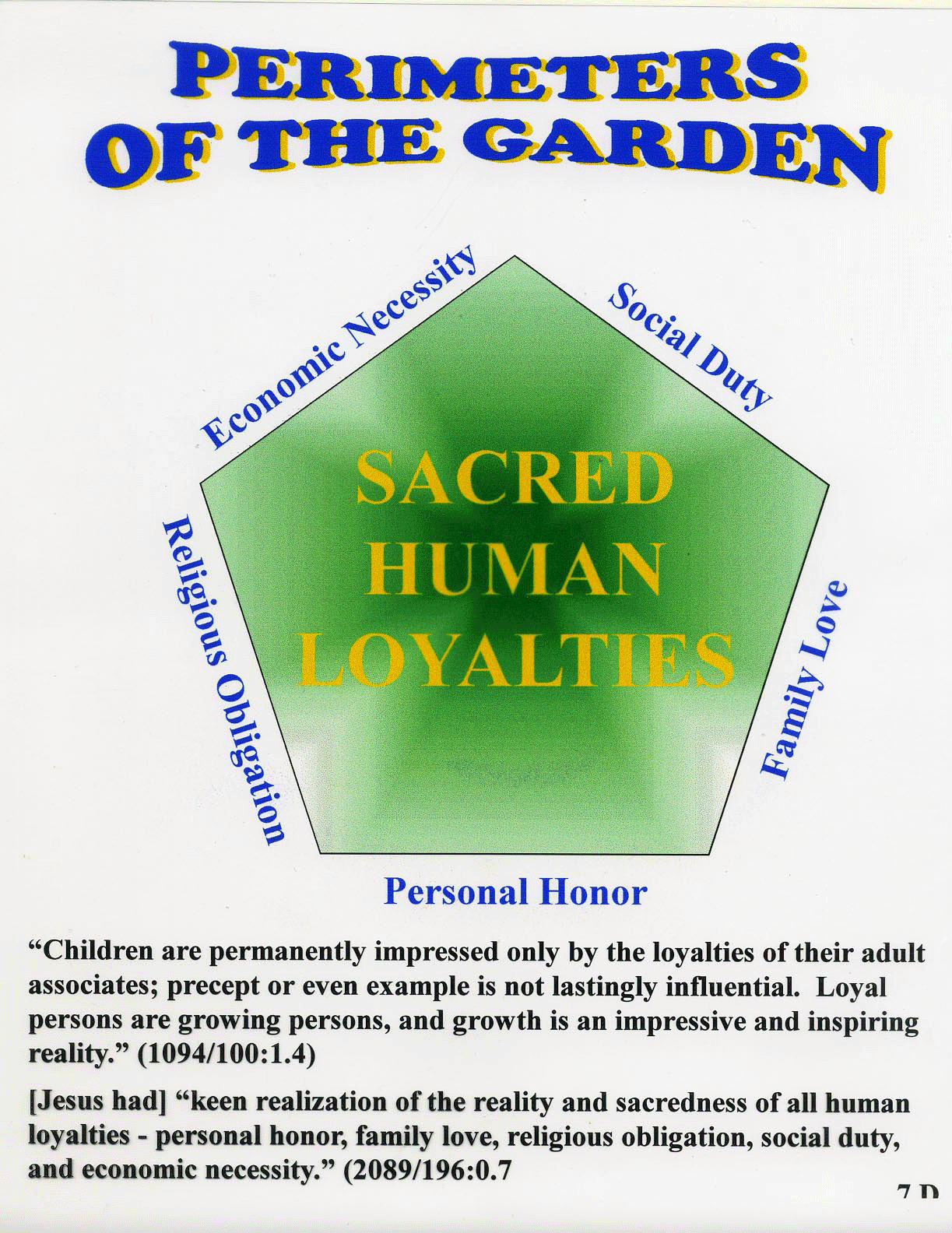 [Jesus had]….."keen realization of the reality and sacredness of all human
loyalties –
a. Personal Honor
b. Family Love
c. Religious Obligation '
d. Social Duty
e. Economic Necessity 2089/196:0.7
"Wise planning, therefore, becomes the one thing essential to worldly prosperity."
Financial Planning in the family
Here are some suggestions taken from Family Fun magazine, March 2008 Pages 99 — 104.
1. The piggy bank
Children as young as 3 or 4 can begin to "manage" money. Remember the OLE' piggy bank. Even a 2 year old loves to drop coins in a big pink piggy bank and hear them go "clink", and then feel it get heavy. When it gets full, you break it and go buy something at the toy store or go out for a special eat treat.
2. Trace coins on a piece of paper.
Keep a bunch of coins in a big change jar. The child can match the coins from the jar for lunch money and put them in a coin purse or wallet.
3. On a parent-child date, give your child a certain amount ($20) which has to cover everything — admission, meals, parking fees, tips, etc. They learn to plan ahead for this special time with a parent.
4. Make saving a habit
Using a home computer create a personal bank statement for each child. Enter the weekly allowance amount and any purchases made the week before. On the 15th of each month, the kids earn interest on every $10 they have saved. They can see easily how this adds up.
5. Set a schedule for how the allowance is spread out
Half goes to the child in cash, half into a savings account. They can spend their cash anytime, but if they want to dip into savings to buy something special, they have to wait a month before making the purchase. The kids mark a calendar at the beginning of the waiting period. By the time the 30 day mark is reached, they may have reconsidered.
6. Use Gift Cards to help with decision making.
Giving children gift cards when they turn 4 encourages thinking about how to spend the money. The parent docs not chip in for more than the card amount. They can save up the cards.
7. Use Monopoly money to show expenses and income.
Give your children a copy of the monthly family budget and the family income in Monopoly money. At first they might look at all the money and think "we are rich". Have them guess how much the bills might be, and then take the real amount from their "money". What they have left is for fun.
8. Use shopping as a fun time to learn.
Give your child $10 in play money. When the child wants something he has to pay his mother/father for it when he puts it in the cart. He can trade items as we shop and get money back if he buys something less expensive.
9. Show kids how their money can change the world.
Divide the allowance into three categories: save, spend and donate. If a child donates to a special cause like saving an animal, the mother and father will match it. Heifer International is a valuable donation cause. For a birthday party a child can choose a theme such as a rain forest them and ask for donations to the rain forest rather than presents.
Products for teaching kids financial savvy.
1. Zillionz Counting Money Jar $13 summittoy.com — a coin counting jar with an LED
amount added up for each coin. A great spare change place to save.
2. A miniature personal ATM which will take deposits and withdrawals. The child learns that
money doesn't automatically replace itself in the machine. Zillionz Deluxe ATM $40;
summittoy.com.
2. Cultivating the environment of the home
"The soil essential for religious growth presupposes a progressive life of self-realization, the coordination of natural propensities, the exercise of curiosity and the enjoyment of reasonable adventure, the feelings of satisfaction, the functioning of the fear stimulus of attention and awareness, the wonder lure and a normal consciousness of smallness, humility." 1094/100:1.5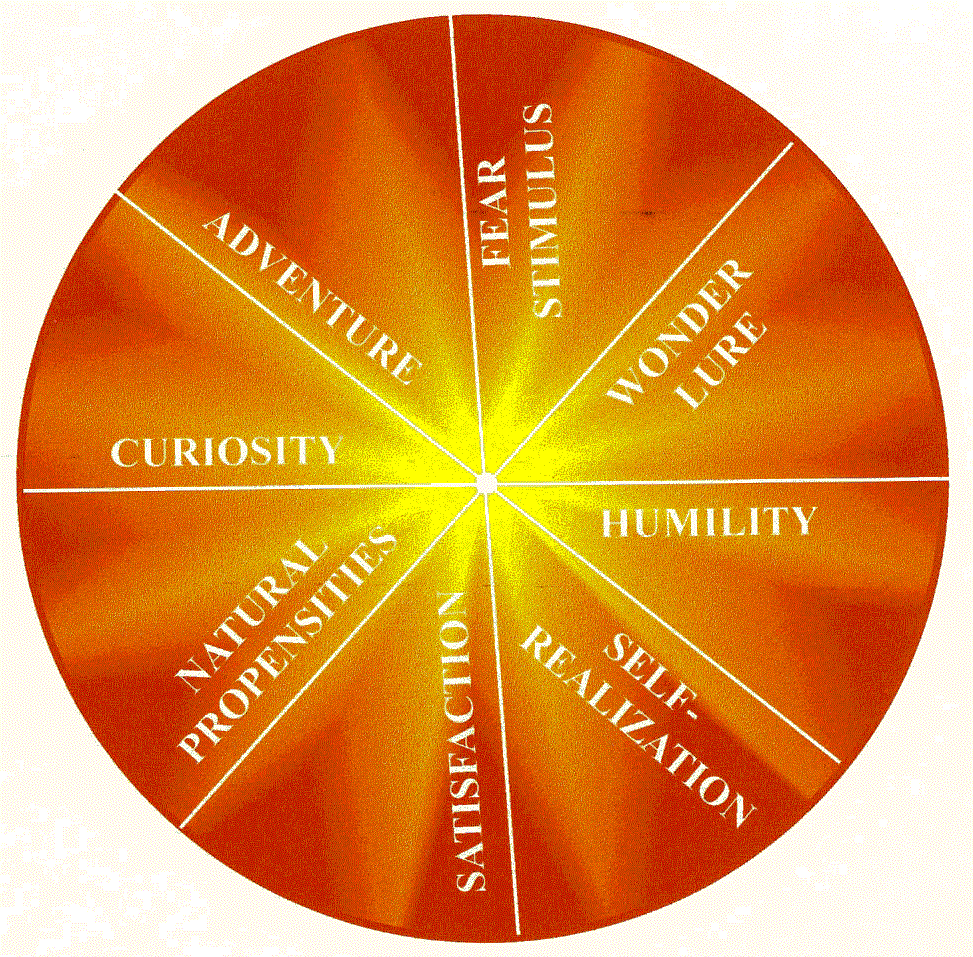 II . YOU HAVE HELP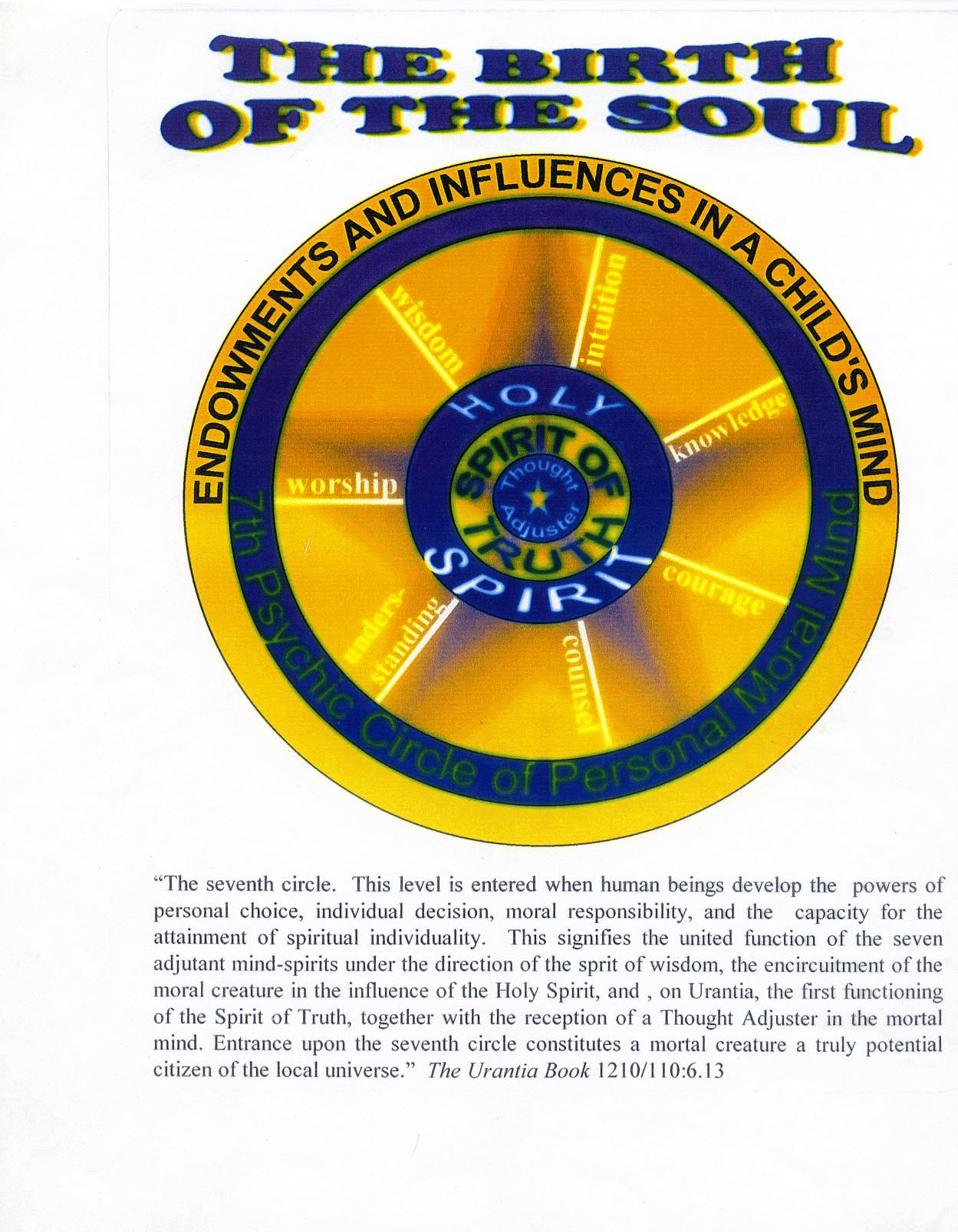 A. Spiritual Influences in and around your child
1. Thought adjuster
2. Holy Spirit
3. 7 Adjutant Spirits
"The physical brain with its associated nervous system possesses innate capacity
for response to mind ministry just as the developing mind of a personality possesses a certain
innate capacity for spirit receptivity and therefore contains the potentials of spiritual progress
and attainment. Intellectual, social, moral, and spiritual evolution is dependent on the mind
ministry of the seven adjutant spirits and their super-physical associates." 739/65:6.l0
4. Spirit of Truth
[will help] "… understand the words of the Master as well as to illuminate
and reinterpret his life on earth." 194: 2.5
5. The home seraphim
"Urantia now enjoys the services of the fifth group of angelic ministers dedicated
to the preservation and advancement of the home, the basic institution of human civilization." (1256.3) 114:6.13
6. The angels of the children: Jesus: "…for their angels do always behold the faces
of the heavenly hosts." 158:8.1 '
B. The Sciences
1. Neuro-sciences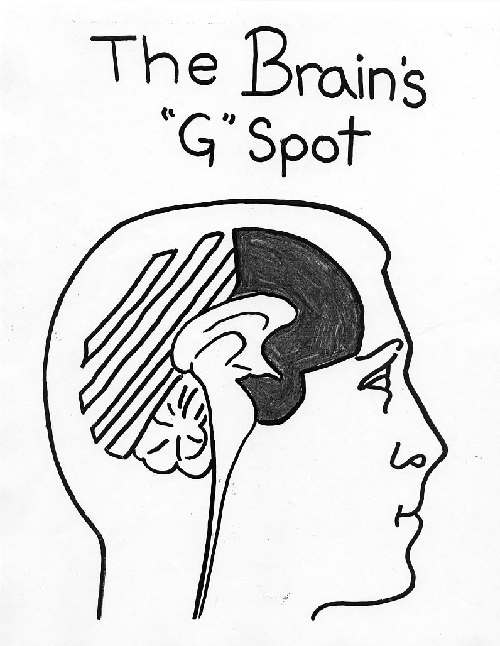 a. Spiritual Intelligence
"The divine spirit makes contact with mortal man, not by feelings or emotions, but in the realm of the highest and most spiritualized thinking. It is your thoughts, not your feelings, which lead you Godward. The divine nature may be perceived only with the eyes of the mind. But the mind that really discerns God, hears the indwelling Adjuster, is the pure mind. "Without holiness no man may see the Lord." "All such inner and spiritual communion is termed spiritual insight. Such religious experiences result from the impress made upon the mind of man by the combined operations of the Adjuster and the Spirit of Truth as they function amid and upon the ideas, ideals, insights, and spirit strivings of the evolving sons of God." 1104/101:1.3
Faith Wiring in the brain — The G (God) Spot
"….functions of the neural circuits in the material human body: Sensations travel inward over the neural paths; some are detained and responded to by the lower automatic spinal centers; others pass on to the less automatic but habit-trained centers of the lower brain, while the most important and vital incoming messages ?ash by these subordinate centers and are immediately registered in the highest levels of human consciousness." 85/7:3.4
a. Visual association area
b. Orientation association area – deadening the self
c. The attention association area – the seat of the will
d. Verbal conceptual association area – naming the world.
2. Psychology
3. Educational Psychology
4. Human Consciousness and Personality
"Human consciousness rests gently upon the electrochemical mechanism below and delicately touches the spirit-morontia energy system above. Of neither of these two systems is the human being ever completely conscious in his mortal life; therefore must he work in mind, of which he is conscious." 111.1.5
5, Nutritional Sciences
6. Health Sciences
"Religious experience is markedly influenced by physical health, inherited temperament, and social environment." 100:1.6 e
7. Child Development Research
III .. HELP YOUR CHILD DISCOVER THEIR SELFHOOD, AND EXPLORE WHO THEY ARE AND CAN BECOME
A. YOUR ATTITUDE TOWARD YOUR CHILD
"Children are naturally trustful, and parents should see to it that they do not lose that simple faith. In dealing with children, avoid all deception and refrain from suggesting suspicion." 14025.14
"There are present in all normal mortals certain innate drives toward growth and self-realization which function if they are not specifically inhibited. The certain technique of fostering this constitutive endowment of the potential of spiritual growth is to maintain an attitude of wholehearted devotion to supreme values." 100:1.6
B. ABILITIES, SKILLS, AND INTELLIGENCES
"Ability is that which you inherit, while skill is what you acquire. Skill is one of the real sources of the satisfaction of living. Ability implies the gift of foresight, farseeing vision." 1779/160:4.5
1. MULTIPLE INTELLIGENCES — Howard Gardner (inherited abilities)
a. Linguistic and Verbal
b. Logical and Mathematical
c. Spatial and Visual
d. Musical intelligence
e. Bodily-kinesthetic
f. Interpersonal
g. Intrapersonal intelligence
h. Nature Intelligence
2. EQ EMOTIONAL – an acquired skill
3. SOCIAL INTELLIGENCE — a learned skill
"If you would only fathom the motives of your associates, how much better you would understand them. If you could only know your fellows, you would eventually fall in love with them." 100:4.6
"Mirror neurons"
"Still-face"
4. MORAL INTELLIGENCE
"Moral choosing is usually accompanied by more or less moral conflict. And this very first conflict in the child mind is between the urges of egoism and the impulses of altruism."
"When a moral being chooses to be unselfish when confronted by the urge to be selfish, that is primitive religious experience." " But before a child has developed sufficiently to acquire moral capacity and therefore to be able to choose altruistic service, he has already developed a strong and well-uni?ed egoistic nature." 103:2.
"In the absence of wrong teaching, the mind of the normal child moves positively, in the emergence of religious consciousness, toward moral righteousness and social ministry, rather than negatively, away from sin and guile." 103:2.6
C. ARCHETYPES AND HEROES
"Wisely help them to choose their heroes and select their lifework." 140:5.14
1. Superman lives!
2. Patterns within the subconscious – Fairytales
3. Patterns overlaid from the superconscious?
IV. GUIDE CHILDREN TO DEVELOP HABITS FOR A LIFETIME OF PROGRESS THROUGH THE PSYCHIC CIRCLES
"Religious habits of thinking and acting are contributory to the economy of spiritual growth." 100:2.8
A. HABITS OF DAILY LIVING – From 7 Habits of Highly Effective Families
By Stephen Covey
1. Be Pro-active
2. Begin with the End in Mind
3. First Things First
4. Think "Win-Win
5. Seek First to Understand … Then to be Understood
6. Synergize
7. Sharpen the Saw – Personal Renewal
B. HABITS OF THINKING AND EVALUATING
1. Values as a means/tool for evaluation of decision making
2. Adjustment to failure and mistakes
3. Protecting "mind space" from pollution; creating healthy space
4. Decision making abilities
"Every decision you make either impeded or facilitates the function of the Adjuster; likewise do these very decisions determine your advancement in the circles of human achievement." 110:6.5
C. HABITS WHICH FAVOR RELIGIOUS GROWTH IN THE HOME
1. Develop a family culture around the life and teachings of Jesus.
2. Storytelling
3. Meditation
Rodan: "Talking about Jesus: "Even now he is out in the hills taking in power while we are here giving out energy. The secret of all this problem is wrapped up in spiritual communion, in worship. From the human standpoint it is a question of combined meditation and relaxation. Meditation makes the contact of mind with spirit; relaxation determines the capacity for spiritual receptivity." 1778/160:3.1
Jesus to Peter after his resurrection: "Let experience teach you the value of meditation and the power of intelligent reflection." 2048/192:2.2
4. Worship and prayer time
a. Alter ego — "Children, when first learning to make use of language, are prone to think out loud, to express their thoughts in words, even if no one is present to hear them. With the dawn of creative imagination they evince a tendency to converse with imaginary companions. In this way a budding ego seeks to hold communion with a factitious alter ego." "From the moment of conceiving of an alter ego to the appearance of the concept of a divine and heavenly Father, prayer is always a socializing, moralizing, and spiritualizing practice." 91:3.1 & 3
"Egoistic prayers involve confessions and petitions and often consist in requests for materials favors." 91:4.3
"When it is not possible to worship God in the tabernacles of nature, men should do their best to provide houses of beauty, sanctuaries of appealing simplicity and artistic embellishment, so that the highest of human emotions may be aroused in association with the intellectual approach to spiritual communion with God. Truth, beauty, and holiness are powerful and effective aids to true worship."…. The child should be introduced to worship in natures outdoors and later accompany his parents to public houses of religious assembly which are at least as materially attractive and artistically beautiful as the home in which is daily domiciled." 167:6.6
5. Rituals
"Those who are God-conscious without symbolism must not deny the grace-ministry of the symbol to those who find it difficult to worship Deity and to revere truth, beauty, and goodness without form and ritual.In prayerful worship, most mortals envision some symbol of the object-goal of their devotions." 873/915.7
6. Home altars
D. HABIT OF BEING IN AND RESPECTING NATURE
1. Benefits of nature — ADD/ADHD
Nature Helps Fight ADHD
Spending Time Outdoors Helps Kids With ADHD
By Miranda Hitti
WebMD Health News
Aug. 27, 2004 — Getting back to nature may help children cope with attention de?cit hyperactivity disorder (ADHD).
Spending time in "green" settings reduced ADHD symptoms in a national study of children aged 5 to 18.
The study was done by Frances Kuo, PhD, and Andrea Faber Taylor, PhD, of the University of Illinois at Urbana-Champaign.
Kuo and Taylor used newspaper ads and the Internet to recruit parents of more than 400 children who had been diagnosed with ADHD, a brain disorder marked by inattention, impulsivity, and sometimes hyperactivity.
About 2 million school-aged children in the U.S. have ADHD, write Kuo and Taylor. Adults can also have it.
Of the kids studied, 322 were boys and 84 were girls. They lived all over the U.S., in rural, suburban, and urban settings.
Their parents answered questions via the Internet about how their children did after participating in a wide range of activities done after school and on weekends.
Activities were done inside, outside in areas without much greenery (such as parking lots), and in "greener" spots like parks, backyards, and tree-lined streets.
The kids showed fewer ADHD symptoms after spending time in nature, according to their parents. Symptoms evaluated by the questionnaire included remaining focused on unappealing tasks, completing tasks, listening and following directions, and resisting distractions.
"ln each of 56 analyses, green outdoor activities received more positive ratings than did activities taking place in other settings," write Kuo and Taylor.
It didn't matter where the children lived. Rural or urban, coastal or inland, the findings held true for all regions of the country.
Other factors like sex, household income, age, and severity of symptoms weren't significant.
It didn't take a pristine landscape to prompt the improvement. No need to head for a remote rainforest; just get outside and around greenery after school and on weekends, wherever you are, say the researchers.
"These findings are exciting," says Kuo in a news release. "I think we're on the track of something really important, something that could affect a lot of lives in a substantial way."
After all, nature is free and has no side effects "except maybe splinters!" says Kuo
E. HABIT OF SERVICE — altruism
"The family is the fundamental unit of fraternity in which parents and children learn those lessons of patience, altruism, tolerance, and forbearance which are so essential to the realization of brotherhood among all men." 84:7 :28
V . PARENTS ARE THE FIRST TEACHERS; THE HOME IS THE FIRST EDUCATIONAL INSTITUTION
A. PREPARE YOUR CHILDREN TO ENJOY
"THE ESSENTIALS OF THE TEMPORAL LIFE….
1. Good physical health
2. Clear and clean thinking
3. Ability and skill
4. Wealth — the goods of life;
5. Ability to withstand defeat;
5. Culture – education and wisdom" 160:4.2 Rodan
B. LEARNING IS A LIFE LONG PURSUIT
1. Thinking
2. Feeling
3. Doing
C. PRINCIPLES OF EDUCATION
1. Balance
2. Schools of Thinking, Feeling, Doing – the three parts of the brain
3. Teaching what you have learned
4. Training in doing the thing that are being taught — learn by doing
5. Technique for gratifying natural and inherited urges –
D. PURPOSE AND DEFINITIONS OF EDUCATION
1. To develop and share the innate endowments of the human mind
a. Causation
b. Duty
c. Worship
2. Socialization
3. Learning is best under the least stress
VI . ILLUMINATE THE SACRED — THE TRUE , THE BEAUTIFUL , THE GOOD — IN THE EVENTS OF DAILY LIFE.
"All truth — material, philosophic, or spiritual-is both beautiful and food. All real beauty – material art or spiritual symmetry — is both true and good. All genuine goodness — whether personal morality, social equity, or divine ministry — is equally true and beautiful. Health, sanity, and happiness are integrations of truth, beauty, and goodness as they are blended in human experience. Such levels of efficient living come about through the uni?cation of energy systems, idea systems, and spirit systems. Truth is coherent, beauty attractive, goodness stabilizing. And when these values of that which is real are coordinated in personality experience, the result is a high order of love conditioned by wisdom and qualified by loyalty." 43/2:7.11-12
A. VALUES
"The greater the quality of cosmic adaptation, the more of meaning any experience possesses. Values are not conceptual illusions; they are real, but always they depend on the fact of relationships." 100:3.5
1. Differentiate between that which is value and that which has value;
2. Always depend on the fact of relationship
B. CHARACTER GROWTH
"Strong character, commanding personality, is only acquired by converting the natural urge of life into the social art of living, by transforming present desires into those higher longings which are capable of lasting attainment, while the commonplace lure of existence must be transferred from one's conventional and established ideas to the higher realms of unexplored ideas and undiscovered ideals." 160:1.2
"Strong characters are not derived from not doing wrong but rather from actually doing right…..The happy and effective person is motivated, not by fear of wrongdoing, but by love of right doing." 140:4.6
From A Call to Character by Colin Greer & Herbert Kohl, Editors
1. Values that relate to one's self
Courage
Self-Discipline (self-control — UB)
Integrity –
Creativity
Playfulness
2. Values that Relate to People One Knows
Loyalty
Generosity
Empathy
Honesty
Adaptability
3. Values that Relate to People One Doesn't Know and Nature
Idealism – the "ability to imagine a more perfect world; to see beyond present troubles and imagine future happiness." This is just what Jesus did with his brothers and sisters when the second death in the family had occurred:
"His sturdy and practical optimism was truly contagious; all the children lived in an atmosphere of anticipation of better time and better things. And this hopeful courage contributed mightily to the development of strong and noble characters, in spite of the depressiveness of their poverty." 127:3.14
"Ideas may take origin in the stimuli of the outer world, but ideals are born only in the creative realms of the inner world." 1220/111:5.
"When children have their ideals, do not dislodge them; let them grow." 48:6.21
Compassion
Balance
Fairness
C. HIGHLIGHT VALUES IN DAILY LIFE – Living Metaphors
1. Joy in the Worm Bin
2. Metaphors for living from a game of solitaire
VII . CONSCIOUSLY CREATE A CONTRIBUTING AND PRO-ACTIVE ATTITUDE ABOUT AND WITHIN THE ENVIRONMENTS IN WHICH YOUR FAMILY LIVES. HELP YOUR CHILDREN TO EXPERIENCE THE CONNECTIONS OF ALL LIFE.
"In this work of passing on the cultural torch to the next generation, the home will ever be the basic institution. The play and social life comes next, with the school last but equally indispensable in a complex and highly organized society." 81:6.23
a. The home
b. The community
c. The planet
From the beginning inculcate the TRUTH that the earth is ONE and all who live on the earth, plant, animal and humans are all connected. The visionary Buckminster Fuller called the earth one great spaceship and Said of it: "We are not going to be able to operate our spaceship earth successfully nor much longer unless we see it as a whole spaceship and our fate as common. It has to be everybody or nobody." Pg.281 Operating Manual for Spaceship Earth. A Call to Character – Colin Greer & Herbert
THE EARTH PLEDGE
I pledge allegiance
to the earth on which I live
and to all her creatures
large and small
and to her water, air and soil;
ONE world, ONE people Undivided,
With
Food,
Shelter,
Health,
Freedom,
Love,
And Justice for all.
Lilith Rogers
All humankind are one vast family
this world our home
We sleep beneath one roof
the starry sky
We warm ourselves before one hearth
the blazing sun
Upon one floor of soil we stand
and breathe one air
and drink one water
and walk the night
Beneath one luminescent moon
The children of one God we are
and brothers of one blood
And members in one worldwide
FAMILY OF GOD
Vern Bennom Grimsley