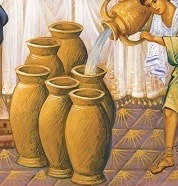 September 6th, 2019
"Near at hand stood six waterpots of stone, filled with water, holding about twenty gallons apiece." Soon, the wedding servants drew wine out of these waterpots. How this happened is the subject of the children's lesson titled "The Wedding at Cana." The Urantia Book gives a thorough account of what transpired that day and makes for fascinating reading.
This lesson marks the beginning of Year 3 and is scheduled for September 9, 2019. For more information about the children's curriculum and how to sign up, click: One Page Lessons. The lessons arrive in PDF format and are free of charge. If you need a PDF with a Bible reference rather than a Urantia reference, I can provide that.
Here is a list of lessons through November of Year 3.
September
Week 1—Wedding at Cana … Paper 137
Week 2—The Merciful … Paper 140
Week 3—Love your Enemies … Paper 140
Week 4—Visit with Nicodemus … Paper 142
October
Week 5—Give us This Day … Paper 144
Week 6—The Persistent Widow … Paper 144
Week 7—The Nobleman's Son … Paper 146
Week 8—Man with a Withered Hand
… Paper 148
November
Week 9—Parable of the Leaven … Paper 151
Week 10—The Hem of His Garment … Paper 152
Week 11—The Bread of Life … Paper 153
Week 12—Peter's Confession
… Paper 157
Submitted by Vicki Arkens